The PR Hub is a PR and talent management agency for entrepreneurs and business leaders wanting to raise their individual and company profiles.
We represent thought leaders, industry experts and award winning entrepreneurs who are seen as the 'go-to' people in their respective fields and are regularly sought after for media commentary, brand collaborations and speaking engagements.

WHO WE'VE WORKED WITH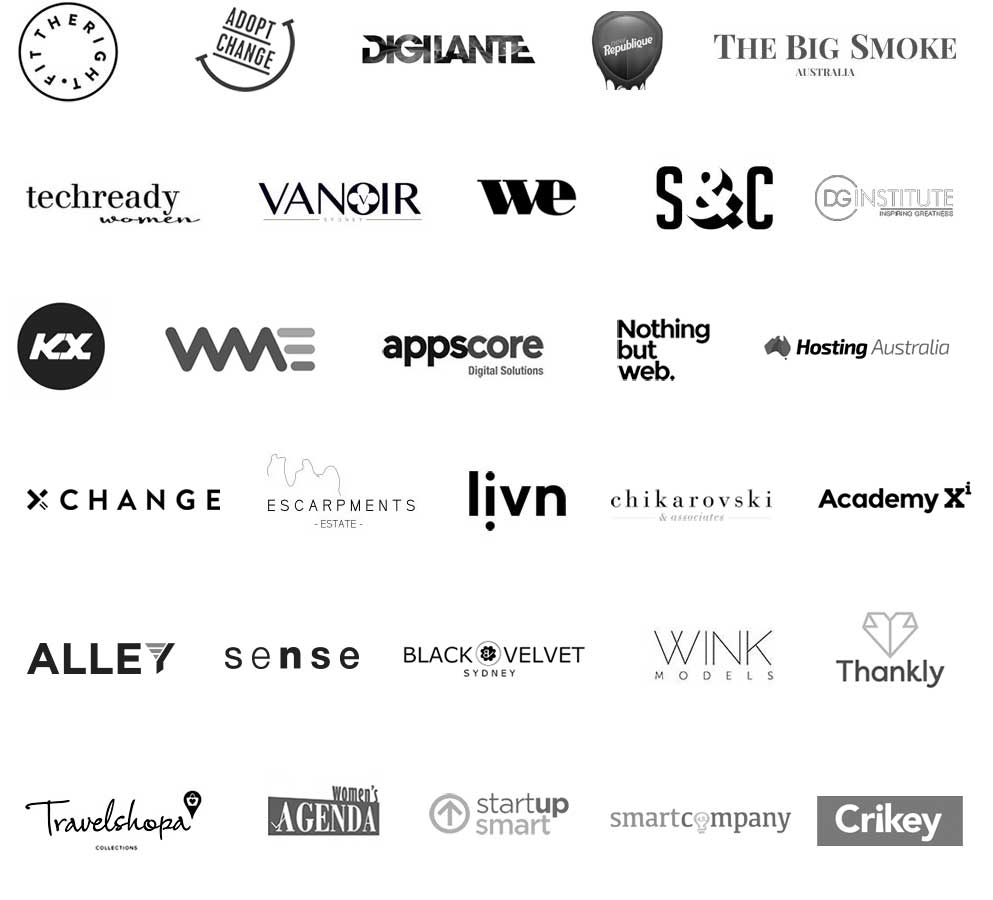 "Sam and the team at The PR Hub have been instrumental in the success of WINK Models. The strategy used by the team is always class-leading and their ability to innately place our business just where it needs to be in the media is incredible. Our industry is quite niche in regards to who we are and what we do, although the team at The PR Hub have never let that get in the way of success."
SAGE GREENWOOD
Managing Director, WINK Models
The PR Hub helped Tech Ready Women launch in early 2017 and have been managing our PR ever since. They are an agile, results driven team dedicated to our success, who have helped us achieve results across digital, tv, radio and print. They also manage my personal profile and do an impressive job of aligning the PR strategy to maximise coverage for both.
CHRISTIE WHITEHILL
Founder & CEO, Tech Ready Women
"As Director of UBalancer Coaching, I have always been impressed with the professionalism and enthusiasm of The PR Hub. I highly recommend them as business partner to help take your business to the next level. In the early days of UBalancer, The PR Hub was an integral part of building our brand and developing our social media presence. They demonstrated a strong grasp of our business model and gave unreservedly their time and energy to guide and deliver our public relations strategy."
ALISON LALIEU
CEO UBalancer Solutions
"Appscore has been working with The PR Hub for almost two years now. They work closely with key members of our internal team to ensure that all of our PR and promotional activity is on-brand and hitting the right audience. We rate The PR Hub highly and they are a valued member of the Appscore team. We happily recommend them to anyone looking for a great PR agency."
ALEX LOUEY
Co-founder & MD, Appscore
"Samantha and her team have taught me the great value of building my personal brand alongside that of my individual companies. I have personally recommended The PR Hub to company founders, CEOs, clients and venture capital firms and will continue to do so. They never fail to deliver outstanding results. They are an invaluable part of our team—strategic, well connected and driven to ensure our success."
TARYN WILLIAMS
Founder & CEO, TheRight.Fit
"The PR Hub are a trusted partner of WME, Hosting Australia and my other companies. Thanks to their persistence and professionalism, they have been instrumental in gaining nationwide coverage that supports our sales and marketing efforts. They understand the B2B space and above all, they're a great group of people that myself and the team like and respect."
NICK BELL
Founder & MD, WME Group
"The PR Hub are great fun to work with and always prepared to get their hands dirty to achieve great results for you. I would be happy to recommend them to any business, which wants to get some great PR. What impresses me most about The PR Hub is that they are honest in business and always put their clients first. They won't work with clients that aren't the right fit or that they don't think are ready for PR rather than taking them on and failing to achieve the great results they are known for."
FINN KELLY
CIO and Cofounder, Wealth Enhancers
SAY HELLO
We deliver high impact PR campaigns that help business founders and leaders create award-winning profiles recognised in the media. Want to find out more? We'd love to talk about you and your business and how we can help. Drop us a line.